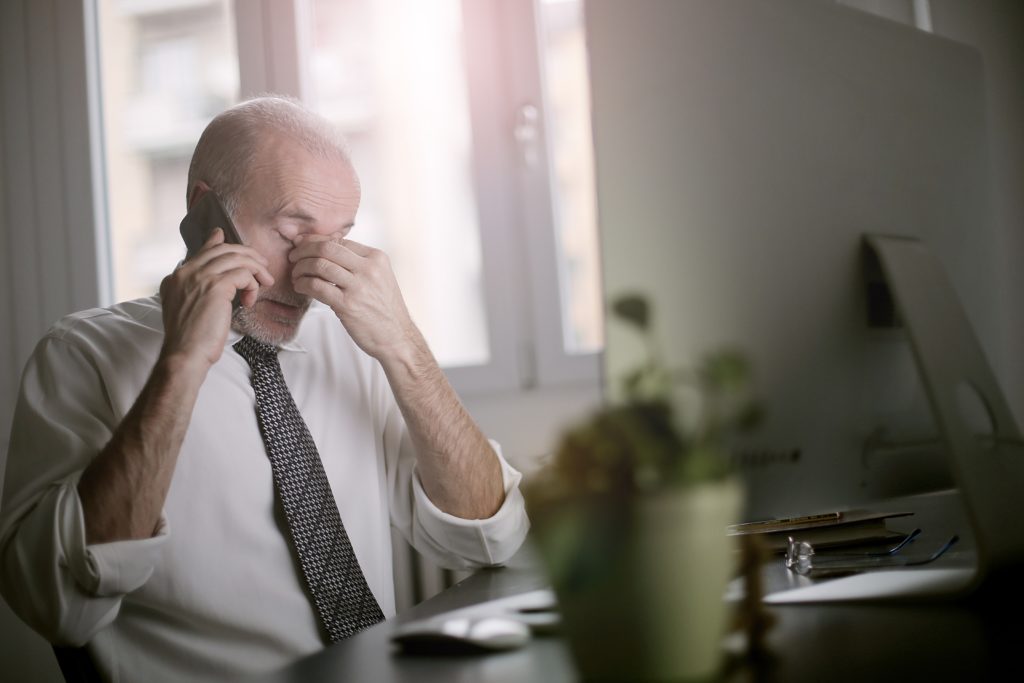 Employee Stress: Costing More Than You Might Think!
According to BenefitNews.com, employee stress is costing companies billions of dollars. Literally billions. In fact, more than 20 percent of workers spend more than five hours of on-the-clock time each and every week focusing on their worries—with an additional 50 percent of workers losing one to five hours of work productivity to stress weekly.
So, by calculating hours of lost productivity by $21—a dollar figure was chosen because it's the average wage from a pool of 128.5 million full-time workers—the impact of employee stress can be quantified.
Top types of stressors include:
work-related stress

financial stress
Additional causes of stress include:
personal/spousal healthcare

family

caring for elderly family members
Here are some of the ways that increased stress is hurting work performance:
41 percent say their productivity levels drop

one third say they feel less engaged

15 percent say that pressures cause them to look for a new job

more than 10 percent are absent from work more often
Providing Employee Stress Relief
Forbes.com provides a list of 25 ways to reduce employee stress to help increase productivity. Here are just three of them.
Clear Communication
Uncertainty can create stress, with clarity in communication helping to reduce those feelings of anxiety, and of being overwhelmed by tasks at hand. To help, employers can clearly state expectations, deadlines, and other relevant parameters. They can create a culture where employees can feel safe approaching supervisors with questions and concerns and put processes in place to facilitate those conversations. During on-boarding processes and company meetings, they can provide information about relevant communication channels.
Here's a great summary from Forbes.com that describes how communication-savvy companies operate. "Your employees should be able to solely focus on the job you've hired them to do. They shouldn't have to allocate any time or effort to decipher the messages they receive from management."
Positive Messaging
As part of your company culture, you can also help to ensure that you communicate in a way that creates positive interactions. "It involves," the Forbes.com article states, "being personal, encouraging, passionate and empowering in your interactions."
Flexibility
By reading through articles that focus on employee satisfaction, it quickly becomes clear how flextime can be key. This can be a huge driver of work-life balance, while significantly reducing stress.
An article in Harvard Business Review provides a deep dive into how a flextime program improved productivity, resilience, and trust at MIT. By reducing the number of days in which employees of MIT needed to make the "notoriously bad commute," the company has "reduced or eliminated a core area of stress." This helps to foster a workplace culture that's happier, healthier, and more present with the task at hand.
Plus, this flextime provided MIT with a financial boon, thanks to increased productivity, even in record-breaking winter storms.Plus, flextime helped them to improve employer-employee trust because it demonstrates how MIT trusts its team to act professionally and get their work done.
The first two ways to reduce employee stress—providing clear communication and positive messaging—largely focuses on what happens in the workplace. Flextime, meanwhile, is a key benefit that also helps employees to reduce stress, overall, when working at home or in a separate workplace. And, this dovetails nicely into the next topic to explore—meaning, how personal issues can affect employees in companies across the workplace-culture spectrum.
Personal Stress and Lost Productivity
When an employee is suffering from stress at home, perhaps of a legal or financial nature, he or she will almost certainly struggle to focus at work. As just one example, let's say an employee is going through a divorce, something that is occurring in about half of the marriages in the United States.
That employee may well be worrying about:
whether to keep the house or move

loss of a familiar life and lifestyle

paying high attorney bills

having less money to live on

whether or not the divorce settlement will be fair

who will get what assets and debts

how the children will be affected
This employee may be undergoing chronic stress and experiencing insomnia, more frequent colds and cases of the flu, anxiety, and depression. As far as the workplace, the average workplace cost of divorcing employees is cited as $83,171 annually because of absenteeism and shortened work hours. Divorcing employees have court hearings to attend and may be dealing with child custody concerns, and more. Furthermore, it can take up to five years for productivity to rebound after a divorce.
This is only one of the many ways in which employees can be undergoing personal stress; it's a good example to use, though, because it illustrates both legal and financial stressors. And, one way that employers can help workers with both types is through offering legal benefits plans that also offer financial wellness services—and that's exactly what our Family Defender™ plan provides.
Legal Benefits Plan By U.S. Legal Services
With this plan, your employees have access to experienced attorneys who can guide them through the divorce process, as well as child custody issues, child support, spousal support, and property division, as needed—as well as a wide range of other legal and financial services, including estate planning, real estate transactions, bankruptcy proceedings, and much more. Identity theft protection is available as an add-on, with this service increasingly in demand by employees concerned about cybercrime.
The Family Defender™ plan allows your employees to be prepared for the unexpected, which can go a long way in reducing workplace stress all by itself. And, if the need for an attorney arises, one will be available right when it's needed.
To be included in the plan's network, attorneys must meet strict criteria, including having at least five years' of experience, being property licensed through their state bar associations, and not having any complaints or disciplinary history.
Employers, to offer your employees this legal benefits plan, simply call us at 1-800-356-5297 to get a quote or contact us online.