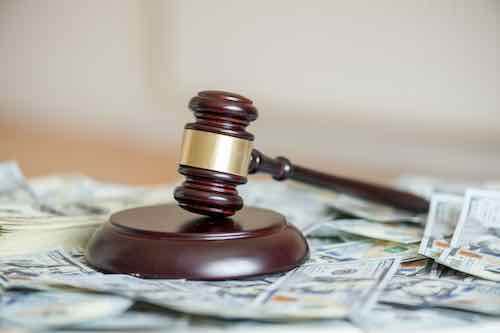 Getting Help With Finance-Related Legal Matters
In many instances, legal issues are in large part financial matters, such as when you're buying or selling a house. Other times, legal matters can involve financial distress, such as when bankruptcy is looming. In both of these types of situations, it isn't unusual to need help from a professional, and a financial attorney can provide the legal advice you need. 
In this post, we'll share answers to frequently asked questions about finance-related legal matters, including five types of issues that fall under this umbrella—plus what legal insurance is and how it can help you and your family. 
What Does a Financial Attorney Do?
At a high level, a financial attorney helps clients with legal matters that have a financial component. More specifically, this can include when you're:
buying or selling real estate 

doing estate planning

communicating with debt collectors

considering or going through bankruptcy

dealing with the consequences of identity theft
As you can see, there are numerous times in life when legal issues also have financial aspects. Some financial lawyers have multiple specialties, while others may be more niche in the types of cases they take on.
What Situations May Require a Financial Attorney?
Here's more information about each of the five bullet points listed above.
Buying or Selling Real Estate
Buying or selling real estate is often the biggest financial transaction that a typical person will make. In many instances, a real estate attorney is not required, but is often helpful. For instance, real estate agents can't offer you legal advice, while that's exactly what an attorney does—and it can be reassuring to have an experienced legal professional to guide you through the financial transaction, protecting your interests all along the way. 
For example, without the guidance of a real estate attorney, some buyers may end up purchasing a property that is in poorer condition than it appears, much poorer than how the seller represented it to the buyer. A real estate attorney can protect a buyer by inserting a clause into the contract that gives him or her the ability to cancel a purchase agreement if the property doesn't pass an inspection. If you're a seller, the attorney can add a clause that protects you if the buyer simply changes his or her mind.
Here is more information about hiring a real estate attorney. 
Estate Planning 
This can include creating a last will and testament, which lists how your assets should be distributed after your death, including but not limited to your real estate and bank accounts. It also gives you the opportunity to name guardians for your children and otherwise help to ensure that you can provide for your survivors. 
Estate planning is much more than a will, though, and this type of planning isn't just for wealthy people. Other aspects of estate planning include a medical power of attorney, which allows you to name who can make healthcare decisions for you when you can't. There's also a financial power of attorney that names who can conduct financial and legal matters on your behalf. If you set up the latter, you can create it so it goes into effect immediately or when you can no longer handle these situations yourself. 
Then there's a living will, also called an advance directive. This puts your wishes in writing if you become terminally ill and can't make important decisions for yourself. These decisions include whether you want palliative care, which is pain management, whether you'd want to be resuscitated, and more. If you're going to have an operation, hospitals may require this document. 
As one more estate planning consideration, you may want to set up a trust. This allows your assets to go to your beneficiaries without the need for probate, which minimizes estate taxes. You can also decide whether you want them to go to those you designate after you die—or at another time, either before or after death occurs.
You can find more information about estate planning here.
Debt Collectors
If you're having to deal with debt collectors, then it can seem counterintuitive to hire an attorney and spend money on legal services. Having said that, a financial attorney that specializes in this area of law can help you understand your rights, including what creditors can and can't do to collect on debts. An attorney can also work with your creditors to negotiate a more doable repayment schedule, or work with them to agree to a reduced lump sum payment, as just two examples. 
Guidance from an experienced legal professional can be especially helpful if you're dealing with payroll garnishment, repossession, foreclosure, or tax agency debt collection. 
You can find out more about your rights with debt collection here. We also encourage you to read the section of this post about legal financial insurance to give you a clearer picture about how, even when struggling with debt, you can have affordable access to legal assistance you need.
Bankruptcy Issues
There are two types of personal bankruptcy—Chapter 7 and Chapter 11—and each is a legal process that provides financial relief to people who can't pay their debts. The goal is to give the person a fresh start.
In a bankruptcy court proceeding, the court would review your assets, as well as your debts and liabilities, to determine if bankruptcy protection should be granted. Sometimes, debts are reduced to an amount that's manageable for you to pay back. Other times, they're completely wiped clean. Some assets may be taken as payment for your debts. 
In general, it makes sense to have an attorney if you undergo this legal process. From 2008 to 2015, 92 percent of people who filed for Chapter 7 had an attorney and those who did were more successful in their quest. More specifically, 98 percent of people who used an attorney got their debts discharged; when looking at those who didn't have a bankruptcy attorney, only 72 percent of them got their debts discharged.
With Chapter 13 files, it has been noted how it's "very rare" to be successful without an attorney. 
Here's more detailed information about bankruptcy filings, including more about the differences between the two types.
Identity Theft
Nowadays, it seems as though stories about identity theft are everywhere. You read about it in the news, and you hear about challenges faced by friends and family members who become victims of identity theft. 
The financial consequences of being a victim of identity theft can be devastating, including but not limited to being denied a credit card or other types of loans; being unable to open up a checking or savings account; or having debt collectors call you for payment on fraudulent charges made by the thief, or on accounts that he or she opened without your knowledge. 
A financial attorney can help you sort through the challenges. Fortunately, there are also ways to proactively protect yourself, and there is more information about that in the next section of this post. 
What is Legal Financial Insurance? 
Legal financial insurance is a voluntary benefits plan, one that employers can provide to their employees to help them have affordable access to the legal services that are most commonly needed—including the types of finance-related legal issues discussed in this post. 
You might hear this type of plan referred to by other names, including legal insurance, a legal benefits plan, voluntary legal benefits, prepaid legal insurance, or a group legal services plan. These plans, no matter which name you choose to call them, are becoming increasingly valued by employees, making them an excellent addition to benefits portfolios offered by employers.
With a legal benefits plan, employees self select to enroll in the plan and then pay affordable premiums, usually through monthly payroll deductions. Then, when they need the help of an attorney, they can use the plan to benefit from covered services. 
Legal insurance also benefits employers, allowing them to offer their employees more robust benefits packages at little to no cost to the company. 
How U.S. Legal Services Can Help
The Family Defender plan by U.S. Legal Services provides affordable access to legal services, including for financial and legal matters and other issues often faced by families and individuals. 
Plan members can contact an attorney, when needed, through our convenient mobile app or by calling our customer service experts. Lawyers in our network are local to members and are carefully vetted before becoming part of our nationwide network—and then vetted annually to ensure that they continue to meet our stringent requirements. 
Employees typically only pay premiums of about $20 a month, thanks to the power of group rates. And, because U.S. Legal Services pays 100 percent of attorney fees for covered issues, this can save plan members thousands of dollars in legal fees. 
Employers, you can contact us online or call us at 1.800.356.LAWS to ask questions and talk about the specifics of the plan you'd like to set up. We're here to help!