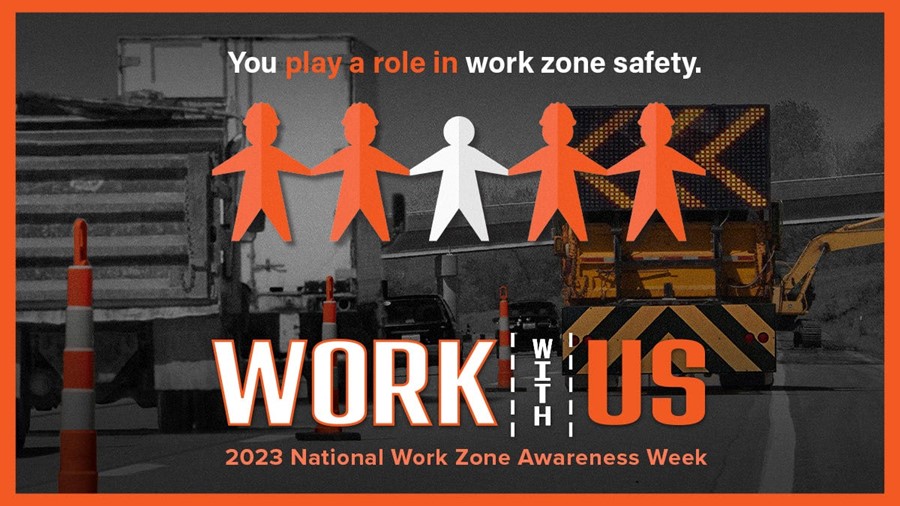 We All Play a Role in Work Zone Safety.
Spring weather means another season is also in full swing: construction season. Nationwide, drivers will see more orange signs on our roadways this time of year as highway workers help repair, maintain, and upgrade our critical infrastructure. As we share the roadways this spring – drivers and workers – the trucking industry is helping to remind motorists that we all play a role in work zone safety.
Motor vehicle crashes in work zones are the leading cause of work-related deaths in America. According to the most recent data available from workzonesafety.org, there were 857 deaths, which included 117 workers, as a result of 774 fatal work zone crashes in 2020.
National Work Zone Awareness Week, April 17-21, is an annual campaign to raise awareness of and encourage safe driving while motorists travel though roadway construction sites.
Construction zones and the resulting delays in traffic and added time onto travel can be frustrating for drivers, but routine road work is critical for our communities; it ensures our infrastructure is safe for individuals and families who are traveling our local roadways, and for America's truck drivers who are delivering the goods our communities rely on.
For those drivers who come across a work zone these warmer months orange road signs are a sign to slow down. By slowing down, minimizing distractions, and keeping a safe following distance, senseless motor vehicle deaths in work zones can be prevented.
For America's 3.49 million professional truck drivers, safety always comes first. Truck drivers recognize the responsibility they have while sharing the road with the individuals and families driving alongside them, as well as to their own families back at home, and know they are part of the solution to safer roads.
As the trucking industry delivers all the essential goods our nation's families and businesses rely on, safety is what ensures that our nation's goods are delivered on-time so that our communities are well supplied. That is why the trucking industry makes significant investments in safety. At least $10 billion is invested each year into safety programs and training for trucks. Trucking companies also empower truck drivers with the skills and training they need to operate their vehicle safely.
While sharing the road during these warmer months, we must all remember we all play a role in keeping our roads safe – whether you are behind the wheel of a car or a truck. Driving safely, especially through work zones, is a responsibility we all share to our fellow Americans on the road. Join the trucking industry and help keep our roadways safer for all drivers this spring.
This blog was created and originally shared by Trucking Moves America Forward (TMAF). The original blog can be found here: https://medium.com/@truckingfwd/we-all-play-a-role-in-work-zone-safety-join-with-the-trucking-industry-to-keep-our-roads-safe-286c4b0ef366