Welcome Florida Professional Firefighters! We are pleased to present you with U.S. Legal Florida First Responders Policy. This plan is specifically designed for you and is only available to Firefighters and EMT's. We offer you two unique plans to best cover your legal needs. Our Family Defender covers you and your family for virtually any legal need that may arise. We also offer our Family/Business Defender plan which not only covers your family, but also your business should you operate one. These plans have been designed and are recommended by Florida Professional Firefighters so you can rest assured that you have access to the best legal plan available. Finally, a legal benefit plan that works the way you expect it to – one that actually pays your attorney fees! Please see the details of what is covered below and we look forward to serving you!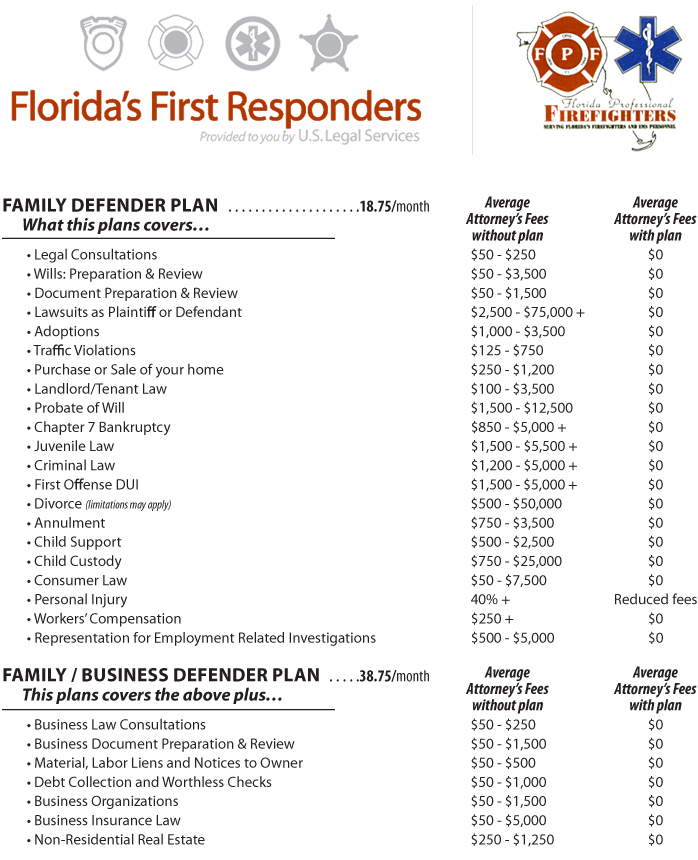 Recommended by Florida Professional Firefighters working with your local union.
For more information, email us at 
info@www.uslegalservices.net
 or call 800-356-LAWS
Disclaimer Statement: You will receive a certificate describing the exact coverage benefits purchased. This flyer explains the general purposes of the insurance described, but in no way changes or affects the insurance afforded under the policy actually issued. All coverage is to be subject to actual policy conditions and exclusions. Not sponsored or approved by the United States Government or any Department or Agency thereof.
FPF Details PDF